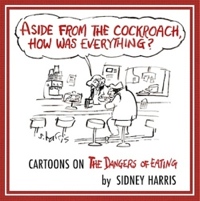 Aside From The Cockroach, How Was Everything? Cartoons on the Dangers of Eating
The latest S. Harris collection---on a subject of interest to anyone who eats! From a greasy spoon's wellness special to gourmet leftovers, you'll find many surprises on our menu.
It's not easy to know when you're eating something that has been genetically modified or irradiated, or if it contains salmonella or e-coli. You may not know if you're eating something that has too many calories, has questionable food coloring, or has not been prepared in the cleanest manner possible. But you'd certainly know if a cockroach was sitting on your salad, and although this might be the least of these hazards, it would be sure to cause the greatest commotion. We can't live only on boiled organic broccoli, so the cartoons in this book might give you a heads up on what's out there.
Let us know if you'd like an autographed copy.
Sample Cartoons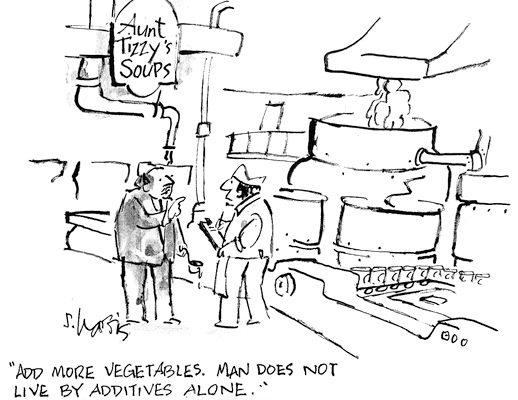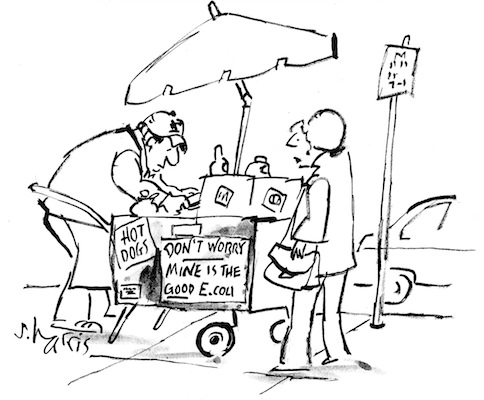 Purchase the Book
$14.95 each
Postage and shipping in the U.S. $3.00
Canada and Mexico: $10.00
Everywhere else: $12.00
Payable by check to:
Sidney Harris
Box 1980, Federal Station
New Haven, CT 06521
USA

Or by PayPal to sharris777@aol.com. Complete the form below and then send payment by your preferred method.